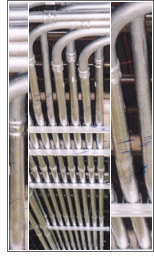 New Construction - From temporary service to closeout, C & N Mangelli, Inc. will work with you every step of the way. Building "core and shell" tenant fit-outs, emergency back up systems, fire, security, voice and data - we can work from your engineer's design or design build, whichever application fits your organization's needs.
Renovations - Similar to new construction we will work with you through every step - from service upgrades, lighting retrofits, or floor plan changes. Our team is highly trained in installing today's most economical and technically advanced systems. Whether you are adding equipment or upgrading to newer more efficient motors and pumps, from purchase to startup, we can make it painless.
Facility Maintenance - We will keep your home or business running smoothly and efficiently. With offices in Bayonne and Old Bridge quality service is just a phone call away.
C & N Mangelli, Inc. knows that no construction is done without obstacles, but you can have confidence that our team is capable of overcoming every obstacle that may get in the way of completing your next project.